EMAXplus™ monitoring
EMAXplus™ will monitor engine and electrical bus data and provide aural and visual signaling for certain critical and abnormal conditions.
The listed conditions are continuously monitored. All conditions will be indicated by tone and visual indication (CAUTION or MESSAGE flashing). The message is then announced on pilot request (ACK/REQ/SETUP button). Until the message has been played, the tone repeats every 60s. CAUTION remains on steady as long as any condition continues.
The pilot can request the information to be announced by pushing the panel mounted button.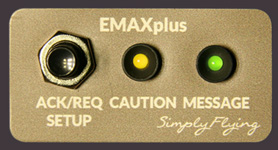 How does it work?
EMAXplus™ reads the engine and electrical bus data measured by the Avidyne EMax system's SIU or DAU computer. If installed in SIU aircraft it also converts the data to DAU format which is readable by both MFD and PFD, utilizing the enhanced capabilities normally only available in later Avidyne Entegra DAU based installations. At the same time, knowing the electrical and engine parameters, EMAXplus™ is able to provide additional monitoring with voice messages and aural as well as optical signaling.


Parameter
Message ON
Message OFF
Oil Temperature
at or above 240°F
at or below 235°F
Oil Pressure
at or below 10 PSI
at or above 15 PSI
CHT High
any CHT above 420°F for 5s
all CHTs below 401°F
TIT High
(22TN only)
TIT above 1750°F for 5s
TIT below 1731°F
Engine Not Ready
OILT < 100°F & RPM > 1000 (2s)
OILT ≥ 100°F or RPM < 950
ALT1 Load
at or below 1 A for 20 s
at or above 4 A
ALT2 Load
at or below 1 A for 20 s
at or above 4 A
EBUS Low Voltage
at or below 24.4 V DC
at or above 26.4 V DC
MBUS Low Voltage
MBUS at or below 24.4V for 20 s
at or above 26.4 V
High Voltage
MBUS or EBUS above 30 V for 20 s
both below 29 V
ALT1 High Load
above 50A for 5 s
below 45 A
ALT2 High Load
above 13A for 5 s
below 10 A
Data Missing
no valid SIU/DAU data for 5 s
SIU/DAU data resumed
Fuel Timer
every 5 (SR20) / 8 (SR22) gallons
ACK
Flight Timer
Reset and Start > 2500 RPM
Stop < 1200 RPM
PITOT Caution
Pitot OFF & OAT ≤ 5°C for 5 s
or loss of OAT data
Pitot ON or OAT above 8°C
PITOT On
Pitot ON & OAT ≥ 8°C for 5 s
Pitot OFF or ACK
TKS Activation
every 15 minutes of TKS pump activation [t = (tNORMAL+2* tMAX)]
ACK