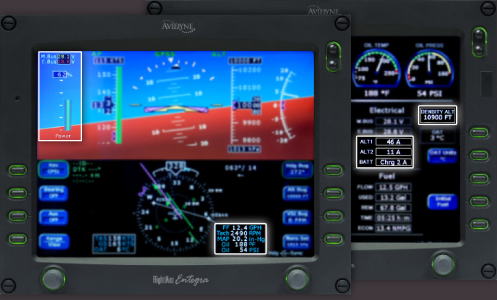 EMAXplus™: Enhanced Monitoring and Aural messaging for all Avidyne Entegra based Cirrus
EMAXplus™ provides continuous monitoring of engine and electrical parameters with visual and audio alerting for:
High Cylinder head temperature
High Oil Temperature
Low Oil Pressure
High and Low Bus Loads for ALT1 and ALT2
High and Low Bus voltages for MAIN and ESSENTIAL busses
Low Oil temperature and high RPM after engine start
EMAXplus™: Fuel Tank Management
EMAXplus™ will provide "switch fuel tank" announcements in 5 (SR20) or 8 (SR22) gallon increments. This can be reset at any time. As a pilot controllable option fuel switch audio can be configured for "immediate" or "tone only" announcements and can be fully disabled.
EMAXplus™: TKS Fluid Consumption Monitoring
For TKS ice protection equipped SR22 EMAXplus™ will monitor TKS fluid consumption by adding the times in which the pump has been activated in NORMAL and MAX modes. The system will announce every 15 minutes of "NORMAL equivalent" pump use. After the TKS pump has been activates at least once this aggregated time is available on pilot request.
EMAXplus™: Pitot Caution
EMAXplus™ monitors OAT and pitot heat activation. "PITOT CAUTION" is signaled if OAT drops to 5°C or below while PITOT heat is off. EMAXplus™ also provides a reminder if OAT rises above 8°C while pitot heat is on.
EMAXplus™: Flight Timer
EMAXplus™ provides a flight time stopwatch starting (and resetting) when first exceeding 2500 RPM (during takeoff). It stops when RPM falls below 1200 RPM. The pilot can request announcement of aggregated flight time.